Kihei Fourth Friday celebrated its one year anniversary this past December 27, 2013.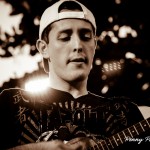 Pulling out all the stops, the event featured Marty Dread and Just Us on the Main Stage with a fantastic intro set by Andrew Molia.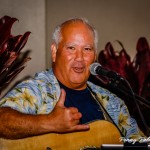 The Food Court stage featured an amazing performance by Keoni Coelho.  If you missed any of these performances, look them up and see where you can catch their next performance – definitely worth it!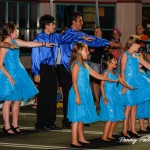 The keiki stage highlighted many young vocalists as they karaoke'd the night away. Guest performance by the Maui youth group, Maui Singsation drew the crowds and decorated their faces with smiles and cheers. Great job everyone!
Please enjoy the pictures from the December Kihei 4th Friday here.
Mahalo nui loa for your continued support!
There were sparklers and dancing… a video montage (created by Penny Palmer Photography) of the past 12 events played on a large screen hung on the hale.  Many regular event goers and volunteers enjoyed their pictures flashing across the screen, dissipating into party flames! If you didn't get a chance to see it, check it out below.
The number of vendor booths was reduced for this special one year anniversary but that didn't stop the shoppers! Everywhere we looked there were crowds shopping and chatting up the vendors. With much sadness, Kihei Fourth Friday Vendor, Jeanie Kini Chang of Maui Blessed had planned on being among the vendors for the anniversary event; however, she went missing just days before. After active searching by many of us all across Maui for this past month in hopes of locating her, we have learned this week that she and her car have been recovered 100 feet down in a gulch.  We send blessings to her ohana and will remember her cheerful attitude always!
Mahalo to the loyal and supportive Kihei 4th Friday vendors that participated – we couldn't do it without you!